Dozens of Families' Dream Spaces Brought Into Reality
Dozens of Basements Finished, Transformed and Rejuvenated
Turn Your Basement Into Your
New Living & Entertainment Space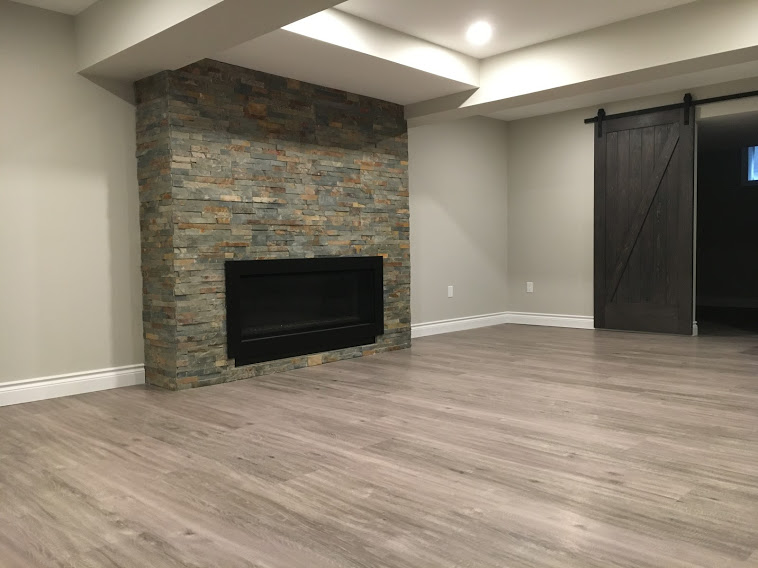 Forget everything you know about home remodelling! Hiring multiple contractors to finish your basement can be time-consuming, expensive and disharmonious.
What's more, your contractor for building & your contractor for design may not see eye-to-eye on your vision. Why cobble together the skill & talent yourself?
From initial design to final product, Ametrine Renovations does it all. The rare Ametrine gemstone brings balance, joy, and harmony, and just like that, you'll be taken through a smooth, integrative, step-by-step process to design AND finish your basement — easily and without hassle.
We can also help you DIY by providing project, materials and sub-contractor management services while you work.
Your New Basement Will Feature Some of the Most Popular Upgrades (including those of your choice!)
Remodel & Redesign Bathrooms
Install Wedi Showers
Install Fireplaces
Replace Damaged or Outdated Doors
Install the Layout for Your Entertainment Area
Recreational Bars
Finishes, Layout, Electrical, Plumbing & Flooring of Your Choice
Updated Trim & Baseboards
Resuscitate Your Entire Basement's Look from Worn-Out to Fresh & Durable
Whatever your idea of luxury or recreation, the warm entertainment zone of your mind's eye will become your reality.
For the imaginative, big-thinking minds of your kids, basement finishing can open the door to a whole new fantasy utopia—the kind they thought was just a dream, until now. Yours to walk, touch, smell, experience, create core memories in.
Make Your Basement Your Own Unique,
Custom Space
Basements are criminally neglected. They're often unfinished and used only for storage. When finished, your basement could easily transform into an open, enriching, relaxing and joyful space, with an atmosphere all its own.
Basement finishing can be difficult and even dangerous. But it doesn't have to be. When you complete it with professional guidance from a reputable local contractor, your final outcome will look and feel like a home that's been there for years.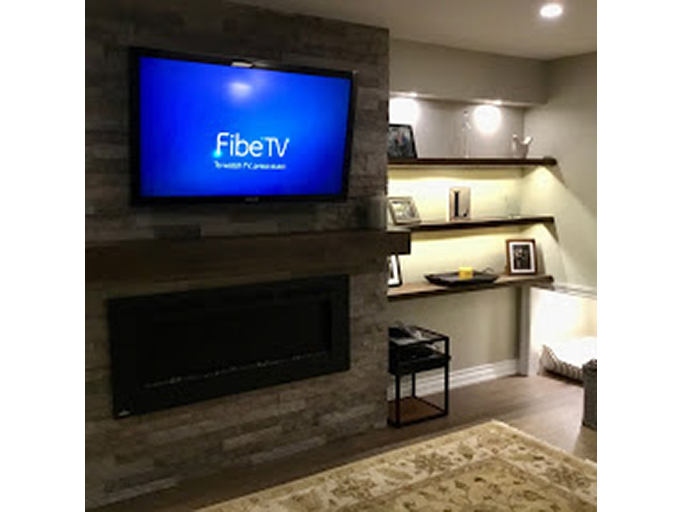 As you work with Ametrine Renovations, you'll see yourself playing a collaborative role with us in designing your finished basement. You're taken through 3 simple stages: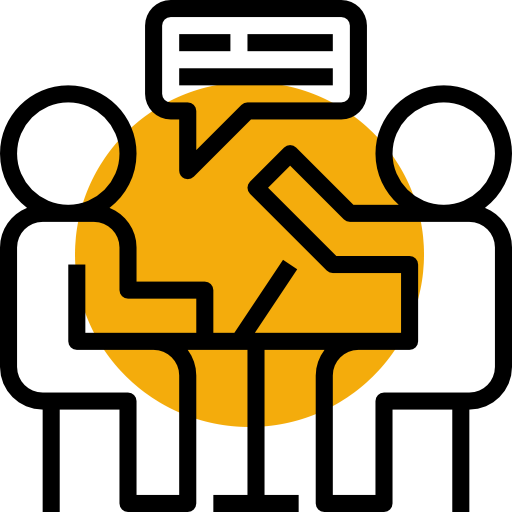 Set up a consultation, and let's sit down & chat about what you want out of your project.
Let your imagination go wild! Spill out all the details in your head, and we'll organize them as we professionally piece together your desired layout.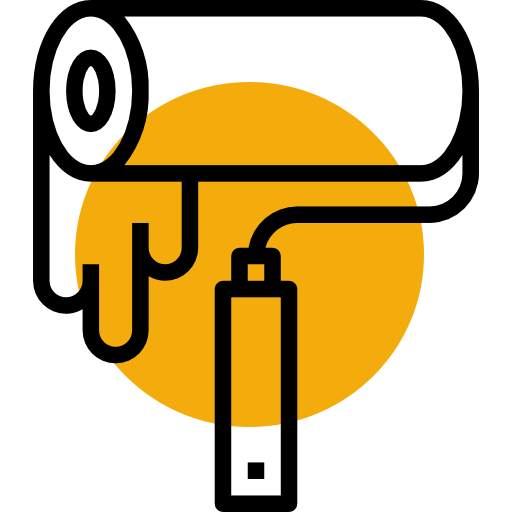 You'll get best practice suggestions and an initial layout design, which once approved by you will be professionally drafted as the Building Permit application drawing.
Once you've agreed, we line up the proposal & estimates and pen down your detailed start-to-finish job roadmap. You'll see more clearly how your vision is brought to life.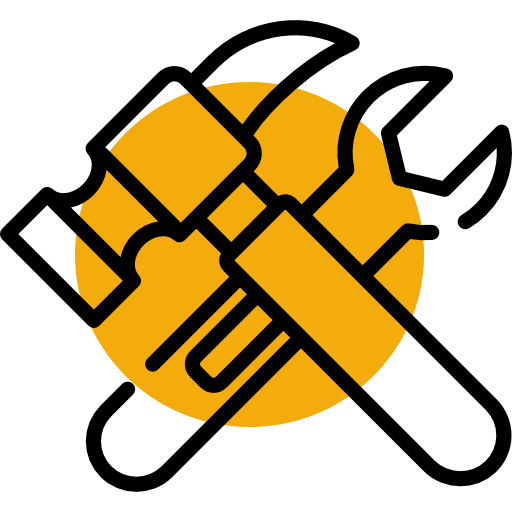 Framing & drywall, flooring & paint, doors & baseboards — your basement will have all your desired details in place, while built defect-free.
Leave the permits and licensing to us — and before long, you'll be living inside your dream space.
Some Types of Finished Basements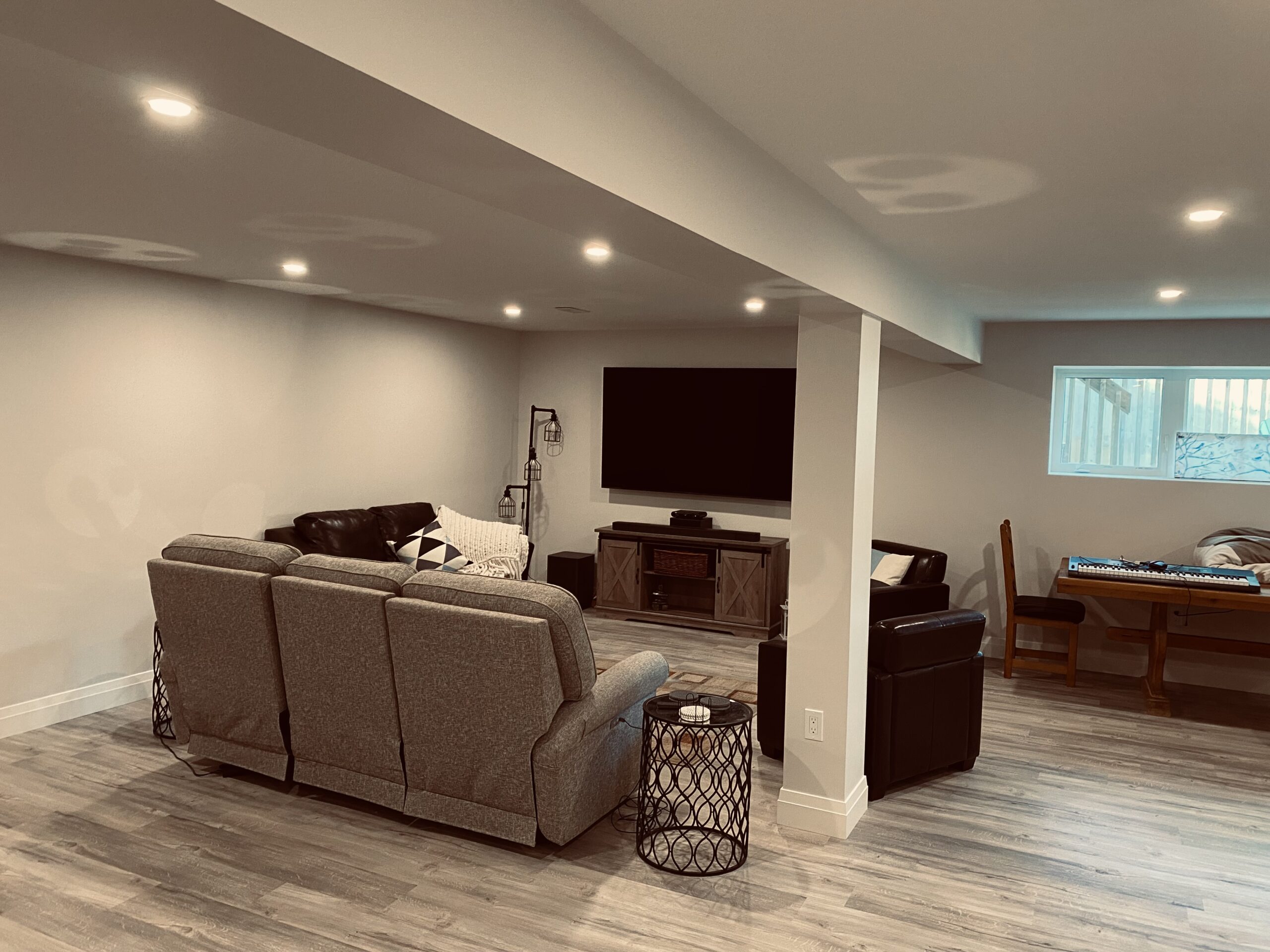 Inject any design flair you want into your basement. From old-fashioned to contemporary, we'll do it. This more rustic look is a backdrop well-matched with wood furniture and space-saving sliding barn doors.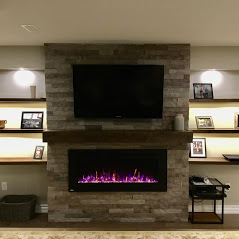 Dim the lights and gather the loved ones 'round for movie time! This entertainment centre was the finishing touch on a client's new home.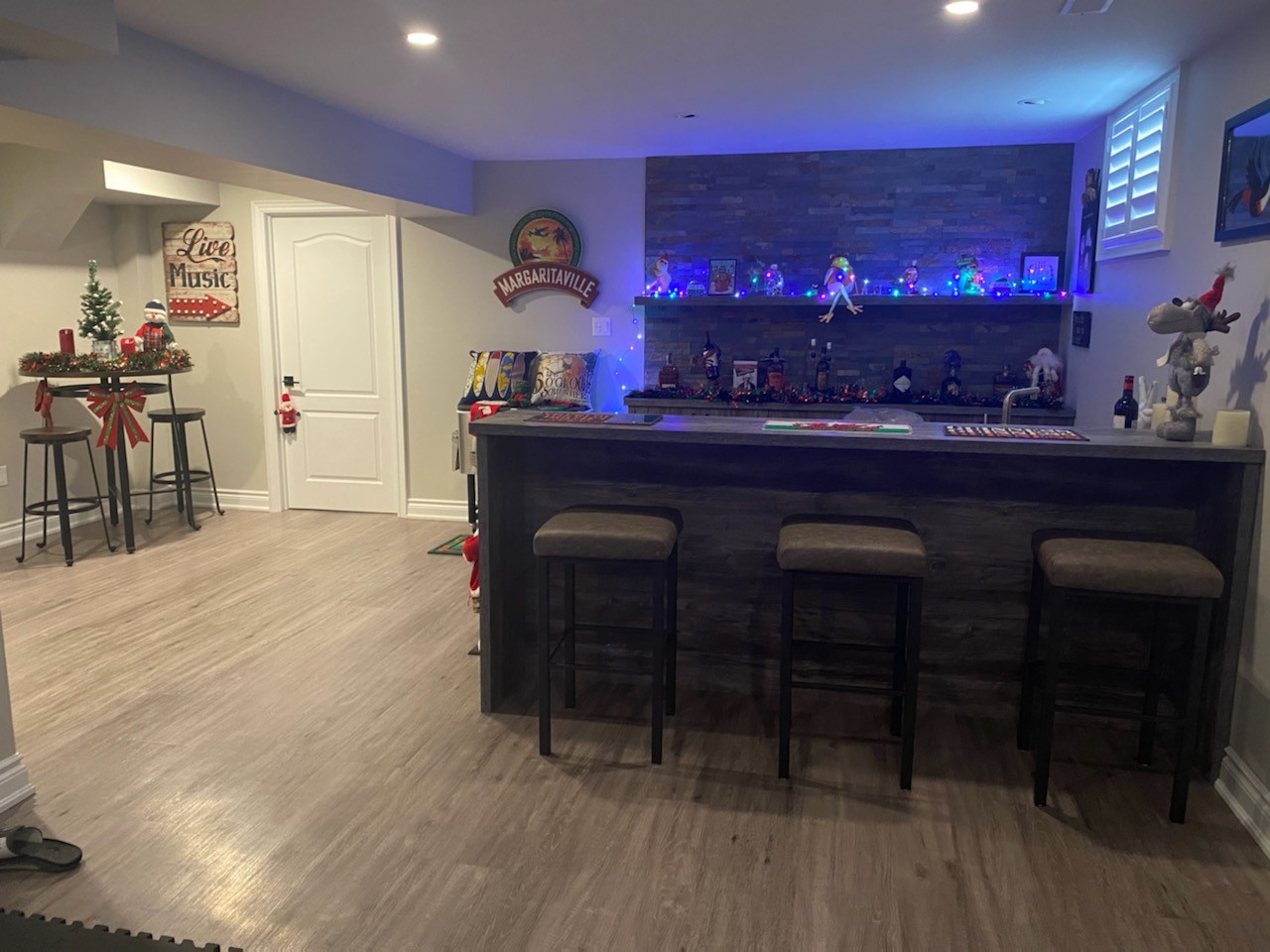 This little underground 'cave' is decorated with a stone veneer. No limits to the kind of look you want for your "secret hideout" to chill out with buddies… (Winter wear not required.)
No longer are you alone in your home's basement — you & the kids now have a beautiful area to entertain, or just relax! Get started today by setting a date and time for a consultation.
View Example Basements Just Like Yours
Chances are, your Collingwood or Blue Mountains neighbour's basement could be an Ametrine renovation! View every step of the process. Take a moment to imagine how your final project will turn out.