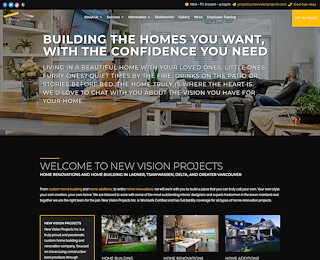 There are some important things you can do even before hiring a renovation contractor in Delta that will give both you and your contractor the best chance to complete the project as desired, on time, and either within or under budget. A simple thing to do is to find a contractor at the outset of your renovation. Having a reliable renovation contractor to work with you step-by-step can prove invaluable concerning planning and executing your renovation project.
Come Up with a Rough Budget
Knowing how much money you want to spend on your renovation can play a big role in the planning and building processes. This helps your renovation contractor know exactly which materials to use and it also allows your contractor to let you know if you can achieve your goals with said budget. If the budget isn't enough for what you want done, an experienced contractor, such as New Vision Projects, make can recommendations to you and help you explore reasonable alternatives that you will likely be happy with and that will fit within the parameters of your budget.
Mark Your Calendar
It is important to have an exact date when you want your project completed. New Vision Projects is the one renovation contractor in Delta that helps our clients not only with setting a deadline for total project completion but also with setting deadlines for the individual phases of the construction project.
Remember to be realistic when setting deadlines. Don't expect to have a home addition built in two weeks. Even relatively simple renovation projects take some time. Keep in mind that planning takes just as long as it does to complete the work, and the better the plan, the better the finished product.
Analyze Your Renovation Goals
Consider what you're trying to build. Is it a bathroom remodel or a home addition? How many square feet do you want? If your project is a remodel, what type of added features do you want? For example, if it's a kitchen, do you want granite countertops? Hardwood floors? Modern appliances? All of this, plus more, should be considered. Again, New Vision Projects can be a helpful partner in this phase of planning, and this phase can really help you get the best budget for your project.
Generate a Detailed Set of Plans
This can be blueprints that are developed from an architect, or you can purchase your own home design software package and make the plan yourself. The bottom line is that you need to be very detail-specific so your contractor can look at the plans and know exactly what needs to built. The plan should also include a comprehensive building materials list. Also, look carefully at the contractor's schedule. At New Vision Projects, our schedules are filled with milestones and milestone payment structures to make life easy for you.
Give us a Call
We'll gladly come to your home for a free, no-pressure quote. New Vision Projects is the renovation contractor in Delta that is dedicated to giving the best for less. In the meantime, feel free to compare us with other Delta contractors, and by all means, choose the partner who's best for you.